This just arrived today. I won this in a Profiles in History auction.It's a set decoration used in Blade Runner (1982). It was used in the scene were Pris is playing with the dolls head. It was actually behind her. See the pics for a screen grab. There are actually two of the futuristic air vents mounted on Sebastians wall. I don't know which one is mine.
It stands 5 foot 10 inches high. It's 27 inches wide and 9 inches deep. All crated up it weighs 160 lb's.
The description said it's fully functional. I didn't realize until today that it had lights in it THAT STILL WORK....short story: after removing the box lid I saw an electrical plug in coming out of the piece...on one side my "good" conscience said "No Dale,this was made by stage hands in 1982...don't plug it in"...my Sci Fi nerd conscience said " Oh for crying out loud..you have to try to plug it in...the auction house notes said it works...C'mon...don't be such a fraidy cat!!"
So with my eyes shut...and knowing I have the fire department on speed dial...I plugged it in...I didn't hear any pops or sizzles so I opened my eyes...HOLY COW!!
I'm probably going to get professional help to mount it because it weighs so much and to help me deal with the emotional effect of seeing it lit up

New Blade Runner prop in my collection. It's huge. It lights up. It has blue neon lights Seen in the screen grab. pic.twitter.com/IzZR8q2ab0

— djrees56 (@djrees56) July 30, 2016
HOLY MOTHER OF GOD!!!! That's f**king awesome DJ!!!!!
Thanks Ken


A quote from SRS
on-set photographs
by Stephen Vaughan
I like how this prop is functional, and can easily serve a purpose in your everyday, Dale. I suspect it may be far older than you think. Maybe it was an actual light fixture someplace before being utilized for TV/Film productions. Who knows ...perhaps it's a legitimate Art Deco piece from a bygone era, after all.
Your prop scored all 5 heads, 2 fast n' furious thrusts ...followed by a series of strong pulsations. BR wasn't inspired by Dick for nothing. The meter's result definitely substantiates your claim the emotional response effect will be significant, even heavenly.
2fuckingahhhhsome (somuchhotlampfuckicum  

), Dale!



Posts

: 81


Join date

: 2016-05-25



Thanks Sawa!!

The light fixture doesn't come across to me as professionally manufactured. The lights are mounted to plywood inside the piece,and you can see lots of drill holes where they "missed" whatever they were doing.
You might be right about it being used for another production or something. Ridley was sending people out to find anything "neon" for the sets. I'm thinking,since there's two of them,they might have been custom made for a stores display window.
I'm going to have professional cabinet makers make a stand for it.  Cabinet makers get asked to mount antique clocks etc... so they might know more about it.
I'm really glad the piece gave you such an emotional response...I'm tempted to offer you a cigarette

Hell of a piece of furniture! Thanks for sharing even more awesomeness DJ!  
One incredible set piece!
If I had anything like that it'd would've floated away this summer!
@Ken
added the ability to embed from Twitter more recently & so a couple of your prop displays have been newly linked via your Twitter
@djrees56
.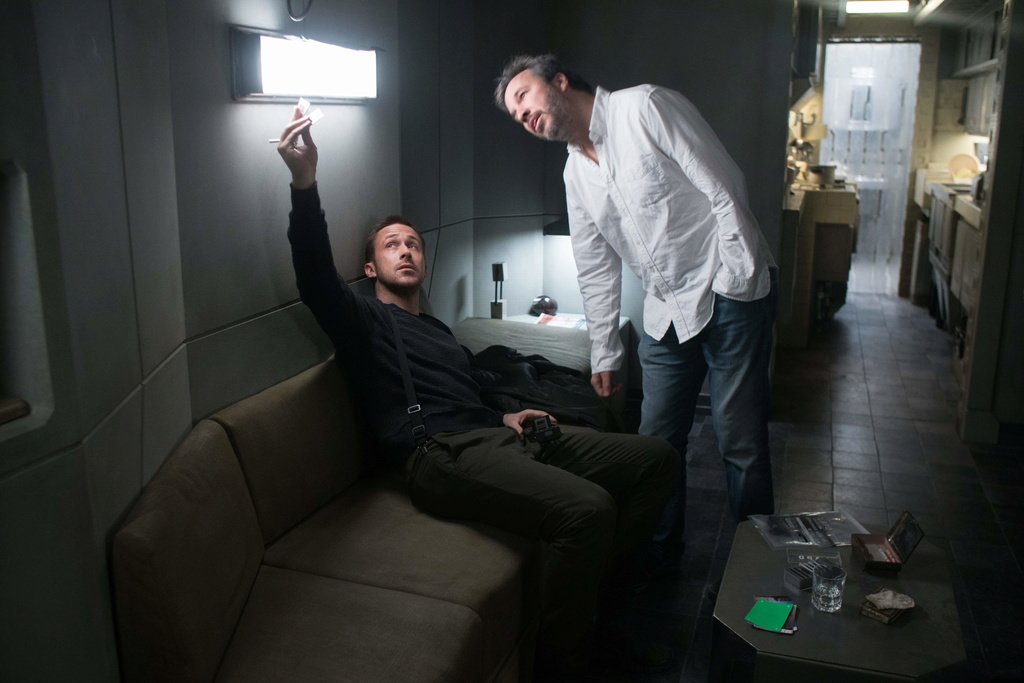 @Sawa
asked me to leave a light on for you.

It took 30 years to tell this story.
Now it comes to you in 30 days.
See 2017's cinematic masterpiece, #BladeRunner2049, on October 6. pic.twitter.com/X7ihO3kajM

— Sony Pictures India (@SonyPicsIndia) September 6, 2017



Posts

: 40


Join date

: 2017-07-17




Similar topics
---
Permissions in this forum:
You
cannot
reply to topics in this forum