Current date/time is Tue Jan 19, 2021 5:00 pm
Search found 2 matches for IT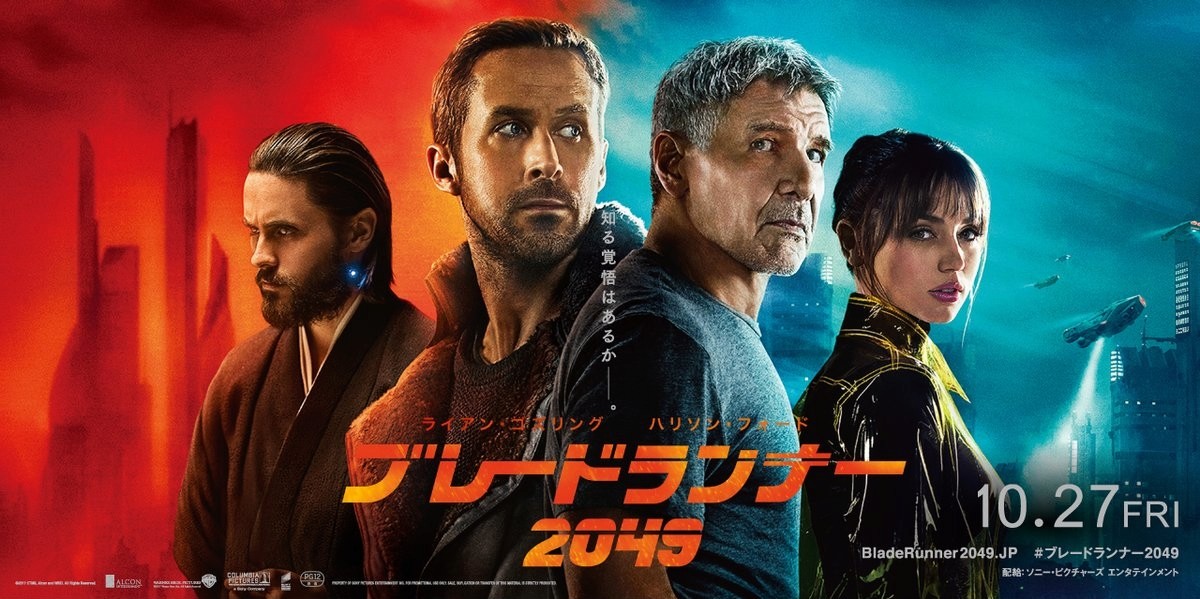 #ブレードランナー 2049
ハリソンがこの映画に関わったきっかけについて語っています。 pic.twitter.com/MACBLvKHwu

— HollyConTokyo/ハリコン (@HollyConTokyo) October 24, 2017
「2つで十分ですよ。」のこちらの魚丼?wwもハリソン・フォード扮するデッカードの名前にちなんで〝デッカ丼〟として再現されてましたよ!
作品内の映像と比べても、かなりの再現率でオーマイガー!#ブレードランナー#シネマトゥデイ#ブレランフェス pic.twitter.com/1XB81kgvdR

— こがけん (@kogakogaken) October 21, 2017
もうすぐ2049が上映ですね。ブレードランナーのロゴおにぎりを作ったのだ。ホントは4つ作りたかった。いや、2つで充分ですよ。具はタイレル社製ネクサス6型梅干し。#onigiriaction #ブレードランナー #bladerunner #2つ充分ですよ #二つで十分ですよ pic.twitter.com/KvGUWBITwd

— 金諒一 (@abq1231) October 21, 2017
#ブレードランナー  川崎のイベント 協力 強力わかもと サンプルくれた。 pic.twitter.com/9Taz3qrN91

— すみひい (@sumihii) October 21, 2017
これは初めて観た!#ブレードランナー2049  #ブレードランナー #BladeRunner #スピナー pic.twitter.com/DAJnLe818h

— 加藤 テツナオ(ブレラン) (@_BladeRunner_) October 19, 2017
「ブレードランナー」短編アニメが全編公開 坂本真綾「CCさくら」と約20年ぶりタッグ:9月26日記事まとめhttps://t.co/bsSKVQYewl#ブレードランナー2049 #ブレードランナー #坂本真綾 #CCさくら #カードキャプターさくら pic.twitter.com/bEQUikW2gn

— アニメ!アニメ! (@AnimeAnime_jp) September 27, 2017
#Architecture in #Film // Amazing Miniature Buildings for #BladeRunner2049 by @WetaWorkshop #Cine #Arquitectura #BehindtheScenes #scifi pic.twitter.com/8nDxlHpPXj

— M.Angel Contreras.Ch (@MAngel_Arqto) October 25, 2017
#BladeRunner2049 soundtrack gets limited vinyl release: https://t.co/xuBH8PJuyg pic.twitter.com/ry2ZOPcm8D

— Exclaim! (@exclaimdotca) October 25, 2017
Just released: gorgeous images of our crew working on @bladerunner. Click for full gallery: https://t.co/2k82D57zEx pic.twitter.com/PwHOiVbvfS

— Weta Workshop (@WetaWorkshop) October 25, 2017
#BladeRunner2049 pic.twitter.com/Rjp6BzO1O0

— Valkyrie (@akorblack) October 26, 2017
Hear #BladeRunner2049 SSE @mark_mangini discuss the film at @Dolby HQ via @soundworksvideo https://t.co/FIScRIFzMh #sounddesign @bladerunner

— Pro Sound Effects (@prosoundeffects) October 26, 2017
"Do Androids Dream of Electric Greeks?" Toph Marshall on classical imagery in #BladeRunner2049. @Tophocles https://t.co/LRcSwUP1F5

— Eidolon (@eidolon_journal) October 26, 2017
love it. #BladeRunner2049 #ConceptArt by George Hull #Art #Design pic.twitter.com/KTbLYDq6up

— Theo (@toptiertaco) October 26, 2017
Spotted the @Artifort Ribbon chair being used in the new @bladerunner film #DesignerFurniture for #Replicants #PierrePaulin #BladeRunner2049 pic.twitter.com/5V9PgQOh9P

— Connections At Home (@286connections) October 26, 2017
やっぱ爆音やで(● ˃̶͈̀ロ˂̶͈́)੭ꠥ⁾⁾
明日はオフィスMORIMOTO新人オーディションを見学する前に #ジャージーボーイズ 観れるかな。どっかで #IT #ブレードランナー2049 #メッセージ をまとめて観れるとイイなぁ。#爆音映画祭 pic.twitter.com/f46K9aR0Ce

— 三輪江一@シン・ゴジラ"巨災対"小松原潤 (@KoichiMiwa) October 26, 2017
ブレードランナー2049 #
drawing #sketch #illustration #movie #cinema #kawaii #tatsumikitano #北野たつみ #artworks #ブレードランナー2049 #BladeRunner2049 #kawaii pic.twitter.com/b4F74mWjWL

— 北野たつみ TATSUMI KITANO (@tatsumi_writing) October 26, 2017
How a Montreal snow plow became an unlikely visual inspiration for #BladeRunner2049 (seriously!) https://t.co/PJYKSWXu32

— Cinema Nova (@cinemanova) October 26, 2017
The #science of #BladeRunner2049 that you would want to know - flying cars, #holograms, replicants & much more!! https://t.co/nX9HIJOobv pic.twitter.com/PyaqaGdD5U

— Srushti IMX (@Srushtiimx) October 26, 2017
I'm so love this movie!!!  #BladeRunner2049  #Bladerunner pic.twitter.com/i4WBbKNSeD

— ShadowJWu (@Ee0106J) October 26, 2017
#Beardwatch2017 ... may have just ended... #conceptart #bladerunner2049 side by side with #forceawakens #conceptart #hansolo #rickdeckard pic.twitter.com/0C47XPZN9S

— aharrisonfordpodcast (@TheFordCastPC) October 26, 2017
つまり、巨匠DPのロジャー・ディーキンスは"大小に限らず"「面光源」ではなくて「点光源」を多く採用してるということ。#ブレードランナー2049 pic.twitter.com/zPio2lpjoX

— masa taka/KAtO (@nardis69) October 26, 2017
This video interview shows how the sound team behind #BladeRunner2049 created amazing sonic landscapes for the film! https://t.co/SDLw94hEMx pic.twitter.com/CU1tPwQEwI

— Sight, Sound & Story (@SightSndStory) October 26, 2017
Watch Taylor Swift's new 'Blade Runner' inspired video for #ReadyForIt?' https://t.co/4XQbs9MDWZ pic.twitter.com/fLE0L39Ah6

— Hollywood Reporter (@THR) October 27, 2017
K // Still floored by how much I adore the new Blade Runner. Quick piece before we get back to Stranger Things... #BladeRunner2049 pic.twitter.com/1LGCJAiK6L

— QzKills (@qzkills) October 27, 2017
#ブレードランナー2049
観てきた。素晴らしすぎて何から書いていいかわからないけど、とりあえずディーキンス!撮影、特に照明…完璧。あと何度も流れる『ピーターと狼』との関連が気になる。ディズニー版のキャラに色彩も寄せてるし。とにかく寝ないで行ったから眠いから寝る。起きたら考える pic.twitter.com/TN2o7C9QZu

— TAKUMI 映画VVitch推奨 (@takumitoxin) October 27, 2017
#BladeRunner2049 pic.twitter.com/qJI3Zsq6dh

— D.D. (@Drafting_Dan) October 27, 2017
I spoke to makeup designer @DonaldMowat about #BladeRunner2049: https://t.co/1Bkv2dMSN6 pic.twitter.com/RDKhBIRgMJ

— Thuy Ong (@ThuyOng) October 27, 2017
So cool to see our Art Deco kit being used in this #BladeRunner2049 poster, created by @Ashthorp and @maciejkuciara for @RidleyScottFree pic.twitter.com/FHirkaROqx

— Kitbash3d (@kitbash3d) October 27, 2017
Blade Runner 2049 goods. Rock glass and multicloth. #bladerunner2049 pic.twitter.com/NWBG2XmUdz

— Brent Millis (@MillisBrent) October 27, 2017
https://t.co/EQqEPBtFtC

This is decent then. #Bladerunner2049

— CP (@Polewka123) October 28, 2017
An Artist's Dream Comes True With These Blade Runner 2049 Concept Imageshttps://t.co/S9NIUMkz7z #BladeRunner2049 #conceptimages

— Dave Rino (@pixelradius) October 28, 2017
#BladeRunner2049: Designing a Brutal, Beautiful Dystopia https://t.co/9LGBWe9dZv pic.twitter.com/x1WTPSvClG

— IndieWire (@IndieWire) October 28, 2017
#Architecture in #Film // Las Vegas City #conceptart for #BladeRunner2049 #ciudadesdeficcion #scficities #cine #Arquitectura pic.twitter.com/U6ZkM3z9AJ

— M.Angel Contreras.Ch (@MAngel_Arqto) October 28, 2017
The Sound of Blade Runner 2049 @bladerunner #music #Film #Bladerunner2049 https://t.co/LSEsUnQiBA

— Zedos Gang (@Zedosgang) October 27, 2017
Al #Cinema a vedere #BladeRunner2049 pic.twitter.com/QGBIpsQiWU

— MichelePici - 21/12 (@MichelePici) October 27, 2017
Own this Limited Edition #BladeRunner2049 Johnnie Walker Whiskey & the amazing CiBi #BladeRunner whiskey glasses now https://t.co/CEIsopkCil pic.twitter.com/lkzD5GVBC8

— Seen On Set (@SeenOnSet) October 27, 2017
ぼくのジョイちゃんです。#BladeRunner2049 #ブレードランナー2049 pic.twitter.com/zyJTj33vGH

— taku (@orcadriver) October 28, 2017
【新製品入荷情報】
留之助商店 留之助ブラスター2049(完成品モデルガン)
入荷致しました!
極少量の入荷となります。
今作品のプロップモデルとなる銃です!@otasou_obu #お宝創庫大府店2F #エアガン #モデルガン #ブレードランナー #ブレードランナー2049 pic.twitter.com/jwhAS3fu4b

— お宝創庫 大府店 (@otasou_obu) October 28, 2017
シド・ミードからの繋がりを感じられず印象の良くなかった「新型スピナー」。60〜70年代コンセプトカーがモチーフで、荒廃しきった世界観に合わせ優美さのない"粗野"なデザインを心がけたとの事。実際映画で見ると、これが情景に溶け込んで素晴らしい。見事だ。#ブレードランナー2049 pic.twitter.com/GiMDuXhj9q

— ジョイ JOY86式。 (@savan_savan) October 28, 2017
#ブレードランナー2049
昼間のシーンがあるだけでも、ブレードランナーとしてはフレッシュで良いし、修士論文で未来都市を書いた身としては本当に眼福。
それだけではなく、気候変動によって海抜ゼロどころかマイナスになり、壁で守られている都市と住民が、閉塞した未来の姿として描かれる。 pic.twitter.com/RvwzwQnowt

— Yuki Kanao (@Yuki_Kanao) October 27, 2017
4つクレークレー

ふたつでじゅうぶんですよー#ブレードランナー2049 #あまむす#ミニスウィーツドール pic.twitter.com/qrMkjaOgsu

— kuroneko (@kuronekoCirno) October 27, 2017
'#BladeRunner2049': Inside the Studio's Unique Efforts to Hide the Spoilers of the Blockbuster Movie https://t.co/TWUjBNxPTN via @indiewire

— SJ Charles (@SJCharles1) October 24, 2017
Tweets Spoilers - Click bar to Reveal:
MAg DiGi TV
Part 1
Part 2
Part 3
Part 4
Part 5
Part 6
3D PHONE PROMO TOY (JAPAN ONLY)
US PRESS CONFERENCE (24.09 FULL)
by 2049BR

on Sat Oct 28, 2017 8:31 am
Search in: Discussion & News
Topic: NICE TWEETS & VIDDIES! VIII
Replies: 2

WARNING: MAJOR SPOILERS WITHIN SEVERAL OF THESE TWEET LINKS!  
AVOID IF YOU HAVEN'T YET SEEN THE NEW FILM!  
Spoilers Smack On Tweets / Click Bar To Read:
Gaff's #BladeRunner2049 cameo could've easily been cut, yet I still wanted more @edwardjolmos. #BladeRunner https://t.co/PwckW3wtCT pic.twitter.com/oXFRUsf0M8

— Matthew Catania (@MattTheCatania) October 11, 2017
@OllieH82 @its_jacksontime gotta love Villeneuve for maintaining tradition and using miniatures instead of CGI for the city #BladeRunner2049 pic.twitter.com/8u30RwdVMM

— Witt Reese (@wittreese1987) October 10, 2017
Having seen Bladerunner 2049 couldn't resist getting this #sydmead #bladerunner #bladerunner2049 #noir #design #co… https://t.co/vtv1rzjyiT pic.twitter.com/EZudPNG4Jt

— ForeignPlanets (@Foreign_Planets) October 10, 2017
Why 'Blade Runner' Is So Fixated on the Eyes https://t.co/SYbo7zpio4 via @thr @UWMFilmStudies #BladeRunner2049 #Eyes

— Gilberto Blasini (@GilbertoBlasini) October 10, 2017
Cool: nieuwe song 'Almost Human' van @Lauren_Daigle  staat op de #BladeRunner2049 soundtrack! https://t.co/Tmvvmh3ely

— Leon van Steensel (@leonvansteensel) October 10, 2017
You Are Welcome https://t.co/RVXVIs2zLJ #BladeRunner2049 #BladeRunner #OST

— TheRealSlimShady (@nirupam89) October 10, 2017
We chatted with JaredLeto about #BladeRunner2049, the obsession with nostalgia, and well, Rotten Tomatoes https://t.co/ju7QnAWA0D

— Typpi - KU$H LORD (@mlgsmokers) October 10, 2017
?? How @Ana_d_Armas Went from Acting in Cuba to Starring Alongside Ryan Gosling - #BladeRunner2049 https://t.co/5ZpHsI7YFe

— Dustin Haviv (@DustyFish770) October 10, 2017
Ryan Gosling's Blade Runner Boots Bates 8 Inch https://t.co/WY44nOqAHf Bates 6 Inch https://t.co/CV6ofUWLGi #BladeRunner2049 #OfficerK pic.twitter.com/B9OXmwGX4P

— the RPF (@therpf) October 10, 2017
Want to know more about VFX in #BladeRunner2049? Read our interview with @davidsheldonhic of @territory studios!

https://t.co/cXx8fJLGeS pic.twitter.com/hP5bjGPdZk

— Signals (@signalsmedia) October 11, 2017
Holograms #HoloLens made sense but not the darkness. Does now!https://t.co/JnonJyhnHk#information #BladeRunner2049 #innovatingcreativity pic.twitter.com/SXzeSAjsOp

— Identiflier (@identiflier) October 11, 2017
New #BladeRunner2049 poster! You should watch it, but here's a primer in case you don't know what's going on >>> https://t.co/f9iTjJDFTE pic.twitter.com/6EohrPVMl0

— Movies with BTG (@btglifestyle) October 11, 2017
The Science Behind "Blade Runner"'s Voight-Kampff Test https://t.co/IHl4Q4hH2V via @NautilusMag #BladeRunner2049 #BladeRunner

— Tzahi Vidas (@kazuarous) October 11, 2017
"I'm not nostalgic." Harrison Ford on returning to an iconic role in #BladeRunner2049 https://t.co/QTlj8bUrhm

— Cinema Nova (@cinemanova) October 11, 2017
@alanamorgendorffer #fashion #photography #transgirl #scifi #bladerunner #BladeRunner2049 pic.twitter.com/RD091mHO1X

— Alana Morgendorffer (@AlanaXiang24) October 10, 2017
#inktober17 day 10- gigantic #BladeRunner2049 pic.twitter.com/ZhFEoo0UBG

— mariessa (@mariessad) October 10, 2017
A quick and dirty #BladeRunner2049 piece to get it out of my system pic.twitter.com/8rAsC4kWqy

— Cameron's Closet (@cameronMstewart) October 9, 2017
I painted a thing after seeing #BladeRunner2049 pic.twitter.com/McZI5kFQ68

— Daniel Baxter (@SimpleCap) October 6, 2017
I just learned there are three shorts to watch before #BladeRunner2049 :

- 2036: Nexus down https://t.co/9mQbTozlAu
- 2048: Nowhere to Run https://t.co/uWhSJ4Jtia
- Black Out 2022 https://t.co/xivb40Ikej

The last one directed by Cowboy Bebop's Shinichiro Watanabe <3 pic.twitter.com/F2I88Kl9Jq

— Adrian Chmielarz (@adrianchm) October 6, 2017
I got to be an extra in an extra scene in one of the BEST MOVIES EVAR! (And no, no spoilers.) #BladeRunner2049 https://t.co/FmB0yY8zzP

— Adam Savage (@donttrythis) October 11, 2017
#BladeRunner2049 #conceptart for the Interior Orphange pic.twitter.com/4gb4UbfwcF

— Peter Popken (@peterpopkencom) October 11, 2017
I spoke to the writers of #BladeRunner2049 about HUGE SPOILERS. Would you like to know more? @CraveOnline https://t.co/PjgHvbfOwv

— The Bibbidook (@WilliamBibbiani) October 11, 2017
Yup that's me with a #Bladerunner2049 Spinner prop at #OC4
I loved the film. #fangirling #geeked @bladerunner pic.twitter.com/dIAlryIO4S

— DCAP Media (@DCAPMedia) October 11, 2017
Future of the Future #VR   #Oculus #BladeRunner2049 pic.twitter.com/loJnakfccN

— Proteus VR (@proteus_vr) October 11, 2017
Prop of the #bladerunner2049 flying car with screens from the "Replicant Pursuit VR game on the screen. #oculusconnect #oc4 pic.twitter.com/GH7wld8e4I

— Events For Gamers (@eventsforgamers) October 11, 2017
Why yes, that *is* a life-size #BladeRunner2049 hovercar! Doubt they'll let me sit inside. #OC4 pic.twitter.com/ACFSEWqTrw

— Sean Hollister (@StarFire2258) October 11, 2017
The iconic and apocalyptic location shots in #BladeRunner2049 are glorious.  *Spoiler Warning* https://t.co/orPala1EJV pic.twitter.com/aQK6rMGN6r

— TravelPulse (@TravelPulse) October 11, 2017
The Voight Kampff Test You Won't See In #BladeRunner2049 https://t.co/3226GIerf1 #InnerSpace @morganhoffman @AjayFry pic.twitter.com/xLhirPsuIN

— Space (@SpaceChannel) October 11, 2017
Fortunate to have met the lovely @sylviahoeks she did an amazing job portraying Luv! #bladerunner2049 #bladerunner #luv #sylviahoeks pic.twitter.com/v6WJu2avHy

— Carlos Otero (@Carlos21Otero) October 11, 2017
#NaoSouCriancaMas queria essa pelúcia de presente. Ele imita o Wallace do #BladeRunner2049. Mas é fofo, canta, dança e representa. pic.twitter.com/pq0CCYRj5k

— Angie Dois (@angiedois) October 11, 2017
After watching #BladeRunner2049 I can say that despite not being on screen enough, @RealRobinWright was my favourite thing about it! pic.twitter.com/pEra9bbAH9

— Emma Dove (@DoveEmma) October 11, 2017
Compare to: https://t.co/yvH4QhQdBM#BladeRunner2049

— tampyre (@tama_thatsme) October 11, 2017
#BladeRunner2049 #allyouneedisLUV #SylviaHoeks on @BUILDseriesNYC #droidlife #electricSHEEP #timeENOUGH  https://t.co/i5kwFd2vZY

— Charles Leroy Smith (@charles_leroy) October 11, 2017
Google's New AI Can Mimic Human Speech Almost Perfectly https://t.co/kWWj0PSTu5 via @Futurism #bladerunner2049 #AI #electroniccomponents

— Jet Components (@JetComponents) October 11, 2017
Learning how badass #SylviaHoeks' character is on @bladerunner. Who wouldn't want a beautiful women who can kick butt? #bladerunner2049 pic.twitter.com/uC8RJMt1m0

— Mufsin Mahbub (@MufsinM) October 11, 2017
FAQ 2017:#BladeRunner2049 https://t.co/aC59Shhhmr

— Michael Green (@andmichaelgreen) October 11, 2017
Check out the @NECA_TOYS new profile photo. #BladeRunner2049 fans will be happy to see more figures: https://t.co/9ueY4lYBFp pic.twitter.com/3qUdlIzCSq

— The Toyark (@Toyark) October 11, 2017
#BladeRunner2049 #conceptart
Production design by Dennis Gasner and concepts by Peter Popken & Victor Martinez pic.twitter.com/VlSMuOYKZh

— Nico Bascuñán (@NBascunan) October 11, 2017
Jared Leto interesting interview about the fantastic #BladeRunner2049 https://t.co/xOyXSpG5mm

— Thomas Tran Dinh (@ThomasTranDinh) October 11, 2017
Belle rencontre ce matin! Dans les coulisses de #bladerunner2049 avec  @TanyaLapointe à @RC_ML sur @icircpremiere ! pic.twitter.com/7bmCpY3WRx

— Frédéric Corbet (@fredericcorbet) October 11, 2017
Joi#BladeRunner2049 #digitalpainting #illustration pic.twitter.com/OTvPXely8f

— Jake Yorath  (@jakeyorath) October 11, 2017
#AtTheMovies #RT @TheDrum How mktg brought #BladeRunner2049 out of retirement after 35 yrs https://t.co/D7xrqdgBXj pic.twitter.com/kgDItosM1M

— Livingmedia (@divasdelite) October 11, 2017
Anyone else thinking about #BladeRunner2049? Scary. Disneyland looks terrifying as wildfires tear through California https://t.co/gExcmPIYiy

— LauraOAndersson (@LauraOnerva) October 11, 2017
Internet! Check out my latest interview for @sideshowsound with the composer of #IT & #BladeRunner2049 @benwallfisch https://t.co/eb7hxVs4bD

— Ian Crabb (@EyunCrabb) October 11, 2017
October 11, 2017
"A TOWERING WORK OF ART."
Make sure you get your tickets to #BladeRunner2049 now: https://t.co/kkWdhw653e pic.twitter.com/rJHiWQN3ch

— Sony Pictures AUS (@SonyPicturesAUS) October 11, 2017
NON ENGLISH
Dans les coulisses de #BladeRunner2049: entrevue avec @TanyaLapointe, qui a écrit un livre sur le tournage! https://t.co/gGu7HdM032 pic.twitter.com/580akr5rlk

— Médium Large (@RC_ML) October 11, 2017
by Ken

on Wed Oct 11, 2017 9:46 pm
Search in: Discussion & News
Topic: NICE TWEETS & VIDDIES! V
Replies: 3