Current date/time is Fri Jan 15, 2021 7:43 am
Search found 1 match for enews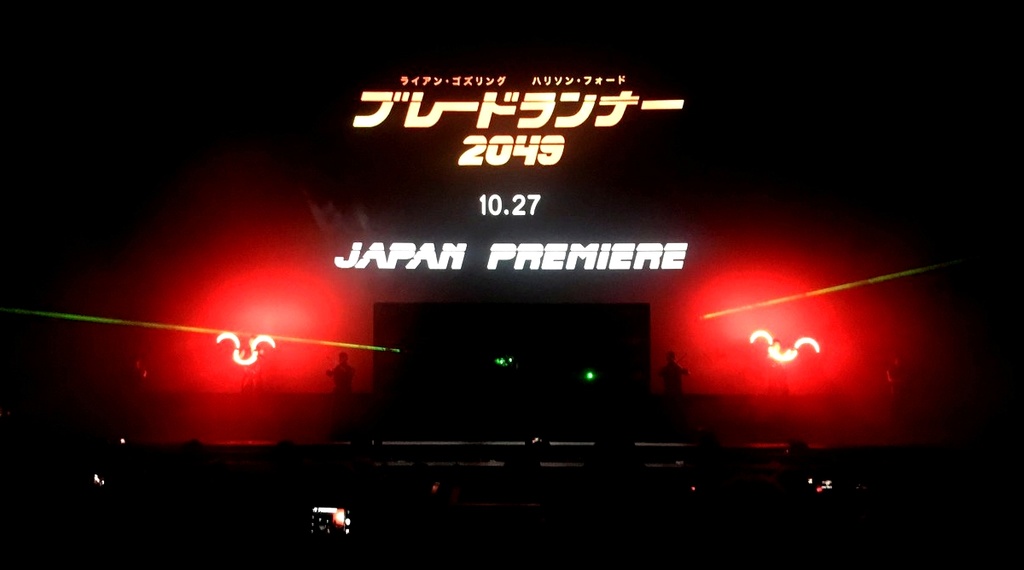 Spoiler Discussion From Parodies Viddy - Click to read:

One more

@2049BR

.  

I can see where

@Ken

is coming from with that. The main female characters were the male's light of their lives: Deckard+Rachael (+their daughter), Joe K+Joi, and Wallace+Luv, but probably more of a father/daughter relationship. A shame much of what had to do with that seemed to be heavily misinterpreted by some of the critics, but that doesn't surprise me either. I'd recommend they go see it a couple more times.

@Sawa

is a terrible dancer, but I don't know anyone that ever minded watching her try.
WARNING: MAJOR SPOILERS EASILY FOUND WITHIN TWEETS
AVOID IF YOU HAVEN'T YET SEEN THE NEW FILM!
John Nelson discussing Blade Runner 2049 & showing breakdowns. I'm telling u these befores & afters are some of the coolest I've ever seen. pic.twitter.com/gOc8bssxFZ

— Ian Failes (@vfxblog) October 24, 2017
Philip K Dick - Fascinating Rare Interview with the author of the Blade Runner novel https://t.co/VTucRrO0z5 via @YouTube #BladeRunner2049

— Loren Robinson (@LorenRAuthor) October 24, 2017
#scifi #illustration // SPINNER #conceptart by George Hull for #BladeRunner2049 #cine #diseño #design #filmdesign #artdepartment pic.twitter.com/9WxG574YsC

— M.Angel Contreras.Ch (@MAngel_Arqto) October 24, 2017
まだ頭の中が整理できてなくて、とりあえず滅多にない体験をしたんだろう、ということしか今はわからない。
#ブレードランナー2049
#BladeRunner2049
#ブレードランナー
#Bladerunner pic.twitter.com/KfauYLRpLE

— かすみん (@AKAyourfactory) October 24, 2017
#BladeRunner2049 Premier in Tokyo
(Photo by Jun Sato) pic.twitter.com/4Zpi5QxgIu

— Jun Sato (@JunSatoPhoto) October 24, 2017
始まりました!!!#ブレードランナー2049 #ジャパンプレミア #japan #premiere #ezone #enews #e #BladeRunner2049 #ハリソンフォード #HarrisonFord pic.twitter.com/BCIXQHN5Wp

— マッシュー Matthew Ireton (@matthew1518now) October 24, 2017
Here's how @territorystudio created subtle yet brilliant screen graphics for @bladerunner 2049#BladeRunner2049https://t.co/vWBDAqENZk pic.twitter.com/BZC4Ft6WdB

— Digital Arts (@digital_arts) October 24, 2017
Find out why K's Spinner is glitchy w/ screen burn & colour fade: @CreativeReview about our work on #Bladerunner2049 https://t.co/TfQJRW8o5x pic.twitter.com/5coJGAapGx

— TERRITORY (@territorystudio) October 24, 2017
Nexus - 6 Genealogy #BladeRunner #BladeRunner2049 #scifi pic.twitter.com/h56KrtbsHV

— Steampunk Agent (@SteampunkAgent) October 24, 2017
映画「ブレードランナー 2049」ジャパンプレミアの動画①#ブレードランナー2049 pic.twitter.com/C7oCMcRDub

— tokaiteo (@tokaiteo) October 24, 2017
ハリソン・フォードとの共演にアナ・デ・アルマス&シルヴィア・フークス緊張

#映画 #ハリソン・フォード #アナ・デ・アルマス #シルヴィア・フークス #ブレードランナー2049 #ジャパンプレミア pic.twitter.com/wcY2bQVZgX

— ORICON NEWS(オリコン) (@oricon) October 24, 2017
ハリソン・フォード、35年ぶり『ブレードランナー』続編に自信 気さくにファンサービスも

#映画 #ハリソン・フォード #アナ・デ・アルマス #シルヴィア・フークス #ブレードランナー2049 #ジャパンプレミア pic.twitter.com/pErdiaYwmH

— ORICON NEWS(オリコン) (@oricon) October 24, 2017
ジャパンプレミア堪能ー!
自腹でもう一回観たい。#ブレードランナー2049 pic.twitter.com/1ct9OG0PHv

— 小澤トシカズ@ドラフト1位展 10/5~ (@taiga_oz) October 24, 2017
登壇者一行を目の前にして「ウワァーウワァーウソー」しか言えなかった、頭が真っ白になった豊島区民氏。#ブレードランナー2049 pic.twitter.com/Io69SouLX1

— 豊島区民 (@toshima9min) October 24, 2017
ドゥニ・ビルヌーブ監督の
お気に入りのハリソン・フォード映画とは?#ブレードランナー2049 pic.twitter.com/0ackCKhALO

— シネマトゥデイ スタッフ (@cinematoday_stf) October 24, 2017
イベント冒頭のデモンストレーション凝ってましたね。#ブレードランナー2049 pic.twitter.com/88o7b7NzyI

— 豊島区民 (@toshima9min) October 24, 2017
ゴージャスなドレスで登場した
シルヴィア・フークス

『#ブレードランナー2049』の好きなところを聞いてみた pic.twitter.com/X4TudqQNLj

— シネマトゥデイ スタッフ (@cinematoday_stf) October 24, 2017
キアヌ、デ・ニーロ、ハリソン・フォードと
大物俳優との共演が続く
アナ・デ・アルマスに
今後のことを聞いてみた。#ブレードランナー2049 pic.twitter.com/TDv9yiU6bN

— シネマトゥデイ スタッフ (@cinematoday_stf) October 24, 2017
終わった……。最後まで目が離せなかった。まずはブレードランナー見直してもう一度見たい……。 #ブレードランナー2049 pic.twitter.com/ql7vUUNzv0

— メエ/八木正紀 (@maybamu) October 24, 2017
レッドカーペット入り口で
顔を出しては引っ込めるお茶目なハリソン#ブレードランナー2049 pic.twitter.com/6pHBYDNKDV

— シネマトゥデイ スタッフ (@cinematoday_stf) October 24, 2017
六本木この街にハリソンフォードがいる。デッカード、インディ
ハンソロ、あなたに会いたい。#ブレードランナー2049 pic.twitter.com/XbvaiS6NAs

— 1111sw会_渋谷ベイダースガッチ (@SugayaVader) October 24, 2017
【ブレラン速報4】ウォレスの秘書"ラヴ"を演じたシルヴィア・フークス。
「日本に来れてホントに胸がドキドキ・ワクワクしています。私たちが楽しんで作った映画なので、皆さんも楽しんでください。」
シルヴィア姉さん、美しい...&カワイイ!#ブレードランナー2049 #ブレードランナー pic.twitter.com/KY4Kujxmuj

— 豆魚雷 (@mamegyorai_jp) October 24, 2017
映画『 #ブレードランナー2049』のジャパンプレミア
ハリソン・フォードのインタビューです!#ブレードランナー  #今日のハリソン pic.twitter.com/UUK8lSAhwm

— シネマトゥデイ スタッフ (@cinematoday_stf) October 24, 2017
Inside this former granite quarry is the future -- or at least the future envisioned in #BladeRunner2049. https://t.co/3SoU169J41

— Tested (@testedcom) October 24, 2017
ブレードランナー2049(ジャパンプレミア上映会)観劇 at TOHOシネマズ六本木ヒルズ#ブレードランナー2049 pic.twitter.com/a7j9UPtjpb

— 豊島区民 (@toshima9min) October 24, 2017
緊張感漂うTOHOシネマズ六本木#ブレードランナー2049 pic.twitter.com/x7nscZQHow

— 豊島区民 (@toshima9min) October 24, 2017
Officer K
With colors & effects by @Midimew #BladeRunner2049 pic.twitter.com/NyklPJ1pQ2

— Joel Gomez (@J0ELG) October 24, 2017
A selection of beautiful #BladeRunner2049 concept art.https://t.co/FsBAMb6Tf7

— Blade Runner 2049 (@bladerunner_2) October 24, 2017
What bad marketing?!#Bladerunner2049 had one of the best movie poster campaigns ever, this wraparound one was as big as a building ! pic.twitter.com/V1VLWOyLDw

— The Arklight (@thearklight) October 24, 2017
#BladeRunner2049  <3 pic.twitter.com/r5VQPz4nEE

— Capitán (@dollanganger666) October 24, 2017
Makeup-Hair Designer Specializes in Bruising Looks for 'Blade Runner 2049,' 'Stronger' https://t.co/R2WlKY80wJ via @variety.

— donald mowat (@donaldmowat) October 20, 2017
Richard Hoover, #VFX Supervisor at @Framestore, talks about his beautiful work on #BladeRunner2049: https://t.co/T7y1Tvo48Z pic.twitter.com/obGu76iO6S

— The Art of VFX (@ArtofVFX) October 25, 2017
#BladeRunner K. enters #Vegas Casino #ConceptArt for #BladeRunner2049 pic.twitter.com/K0h3Rt85AX

— Peter Popken (@peterpopkencom) October 25, 2017
登場シーンほんと興奮した#ブレードランナー2049 pic.twitter.com/0gWk1OyI55

— ドリュー (@movieloveruni) October 25, 2017
TOKYO – @Ana_d_Armas attends the '@bladerunner 2049' press conference at The Ritz Carlton, Tokyo on Oct. 23. #anadearmas #ブレードランナー2049 pic.twitter.com/vZtbpeVmvu

— Din Eugenio (@dineugenio) October 23, 2017
昨夜10/27(金)より公開される映画 #ブレードランナー2049 #ジャパンプレミア のオープニングを #かぐづち が飾りました!! @kaguzuchi_info#ライトショー #ドゥニヴィルヌーヴ #ハリソンフォード #アナデアルマス #シルビアフークス pic.twitter.com/XAhT7Ec444

— Fire photographer/龍 (@T2firephoto) October 25, 2017
スピナーは飛べないから撮影も大掛かりだ!#ブレードランナー#ブレードランナー2049#BladeRunner pic.twitter.com/RjggVYxkXA

— 加藤 テツナオ(ブレラン) (@_BladeRunner_) October 24, 2017
『ブレードランナー2049』の公開間近。レイチェルのかわいい衣装が好きな方にこのイラストを。#ブレードランナー#ブレードランナー2049 #レイチェル#イラスト#ファッションイラスト pic.twitter.com/VDC4sTS9sh

— たごひろき@CafeStoryville (@soldosilasol) October 24, 2017
登壇者一行を目の前にして「ウワァーウワァーウソー」しか言えなかった、頭が真っ白になった豊島区民氏。#ブレードランナー2049 pic.twitter.com/Io69SouLX1

— 豊島区民 (@toshima9min) October 24, 2017
イベント冒頭のデモンストレーション凝ってましたね。#ブレードランナー2049 pic.twitter.com/88o7b7NzyI

— 豊島区民 (@toshima9min) October 24, 2017
on Thu Oct 26, 2017 4:37 pm
Search in: Discussion & News
Topic: NICE TWEETS & VIDDIES! VII
Replies: 2